| | | | |
| --- | --- | --- | --- |
| | | | |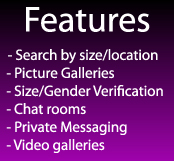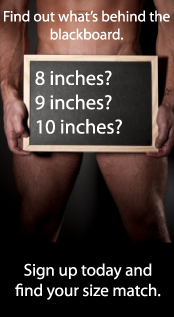 | | |
| --- | --- |
| Age: | 31 |
| Gender: | Woman |
| Looking for:: | Man |
| Location: | Sarasota, Florida, United States |
| Pictures loaded: | 1 picture |
| Albums loaded: | No Pictures |
| Videos loaded: | No Videos |
| Verified: | No |
| Who Can Message Me: | All Members |
| Seeking Size: | At least 6.0 inches long, at least 7.0 inches girth |
| | |
| --- | --- |
| Relationship Status: | Single |
| Referred by: | Referred by a friend |
| | |
| --- | --- |
| Ethnicity: | Caucasian |
| Height: | 5' 6" (167 cm) |
| Eye color: | Green |
| Hair color: | Dark Brown |
| Body Type: | Athletic |
| Best Feature: | I'll tell you later |
| | |
| --- | --- |
| Smoking: | No, never |
| Drinking: | Just socially |
| Have children: | No |
| Want children: | I'll tell you later |
| Sense of humor: | Clever: Nothing's better than a quick-witted comeback, Friendly: I'll laugh at anything |
| Employment status: | Full-time |
| | |
| --- | --- |
| Ethnicity: | Caucasian, English, Irish, Scottish, Dutch, Swedish, Russian, German, Austrian, Swiss, Danish, French, Spanish, Ukranian, Polish, Greek, Italian |
| Smoker: | No |
| Drinking habits: | Does not drink, Rarely drinks, Drinks socially, Drinks 1-3 times a week |
| Partner location: | In the same local area, In the same city, In the same state, In the same country |
| Body type: | Average, Athletic, Muscular, Super Muscular, Bodybuilder |
| Parental status: | No children |
| Eye colour: | Blue, Green, Grey, Brown, Hazel |
| Hair colour: | Brown, Dark Brown, Ash brown, Black |
| Hair length: | Very long, Long, Shoulder length, Short |
The operators of this website make no claims on the accuracy or reliability of these ratings.
Ratings are posted by users, and are not reviewed by the staff.
Profile Rating
How would you rate this profile?
Masonmaison95
: One of my favorite people I have been able to talk to from here. Beautiful, intelligent, funny, and down to earth. Total package!