| | | | |
| --- | --- | --- | --- |
| | | | |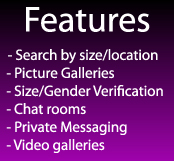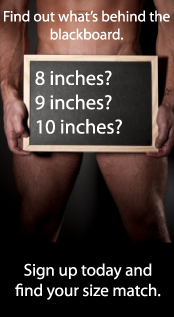 Age:
36
Gender:
Woman
Looking for::
Man
Location:
Clovis, California, United States
Pictures loaded:
1 picture
Albums loaded:
1 Album ( 3 Pictures )
Videos loaded:
No Videos
About myself:
Size Queen here and I'm searching for love (my future monster husband) with an educated gentleman who's a monster behind closed doors. I prefer someone who's 15 inches long OR LONGER but can settle for 10 inches. YES, I did say 15, that's two 7.5 inch cocks together, not separated, not a dildo, but one massive huge 15 inch penis that's naturally attach to your flesh. A foot long is perfect as well.

As for GIRTH, any size doesn't matter if your length fit my requirement.... but if your girth is OVER 6.5 inches and below the length, IT'S OKAY, I would love to get to know you

Knowing that there are A LOT of morphed/ Photoshop/ new iPhone 11 dick pictures, once we get out of this site, you would HAVE TO verify about your size next to a ruler and along with your face. If you're not long as you stated, don't worry, I'll press delete in a heartbeat. Those who don't want to verify, fuck you and don't expect me to give you any respect.

Those who are already verified on this site does NOT have to verify with me. I trust the site

I also want to mentioned, with the icons, it does NOT state if you're straight, bi, or gay. Also, on the birthday wishes, it does NOT allow me to view the profile before sending a birthday message. With this being said, for the gay members, I'm not interested and if you happened to have a huge straight brother or cousin, please send them my way
Verified:
Female
Who Can Message Me:
All Members
Seeking Size:
At least 12.0 inches long, at least 6.0 inches girth
| | |
| --- | --- |
| Relationship Status: | Single |
| Referred by: | Other |
| | |
| --- | --- |
| Ethnicity: | Asian |
| Height: | 5' 5" (165 cm) |
| Eye color: | Brown |
| Hair color: | Blonde |
| Body Type: | Average and a little extra padding |
| Body art: | Ear piercing |
| Best Feature: | Butt |
| | |
| --- | --- |
| Smoking: | No, never |
| Have children: | Yes - at home part-time |
| Drinking: | Never |
| Want children: | Yes |
| Sense of humor: | Campy: The cheesier, the better, Clever: Nothing's better than a quick-witted comeback, Dry/Sarcastic |
| Employment status: | Full-time |
| | |
| --- | --- |
| Ethnicity: | Caucasian |
| Smoker: | No |
| Drinking habits: | Does not drink, Rarely drinks |
| Partner location: | In the same state |
| Body type: | Slim, Average, Athletic, Muscular, Super Muscular, Bodybuilder |
| Parental status: | No children |
| Eye colour: | Blue, Green, Grey, Brown, Hazel, Black |
| Hair colour: | Brown, Dark Brown, Ash brown, Black, Blonde |
| Hair length: | Short, Buzz cut |
The operators of this website make no claims on the accuracy or reliability of these ratings.
Ratings are posted by users, and are not reviewed by the staff.
Profile Rating
How would you rate this profile?
MrHrafn
: I would like to see that include me in that, you can try my pet pony also
AznSizeQueen: You should visit ;)
Aubergineman
: U look so nice, really hot and a wonderful ass... 10 of course ! Can I give you more than 10 ? Lol
AznSizeQueen: Why don't you just gimme a 69, 24/7? ;)
rebelrebelbig
: Funny, SuperCute hot Babe!!!
A TEN for my lovely goddess ;)
Big kiss , rebelrebelbig
AznSizeQueen: And a 10 from me to you! So thick and long
Girthyfucker
: This size queen is 10/10, one day I'm going to fly to her area and really stretch her out, will be the hottest porno the world has seen ;)
AznSizeQueen: Gimme a black eye with your phat monster!