| | | | |
| --- | --- | --- | --- |
| | | | |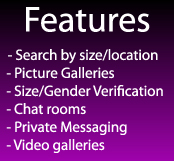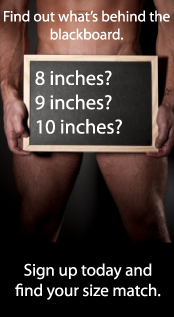 Powerful Matching Options
Find your perfect match by using our powerful matching features.
Use the Quick Search to find other members that are looking for someone just like you. Or use our Advanced Search to pick and choose from many different matching options. Once you've created the perfect search, save it so you can use the same search again with ease.
Still finding too many matches? Look for someone nearby. Narrow your search down to those living around your own zip code (not available in all areas).
Plan on being out of town? Search for other members living near your destination and meet up while away.
Internal Mail Messaging
A fully integrated messaging system is available for you to email other members anonymously and safely. By using our messaging system, you won't have to reveal your real e-mail address or other personal information.
You can also create custom mail templates if you find yourself sending the same message again and again. When creating a templates you can make use of "template variables" for you to personalize your messages. Automatically include your profile data with any message that you send.
Send a Wink
See someone you're interested in but don't want to email? Send them a wink to let them know.
Friends and Hot People List
Build your own private friends list to keep track of their usernames, and to share photos and events. Use it for your main contact list!
If you see someone you're interested in put them on your Hot People list and build your own Little Black Book.
Banned People
Tired of being bothered by the same losers over and over? Put them on your banned list and you become invisible to them.
Profile Views and Winks List
Want to see who's checking you out? Look at the Views list to see who has visited your profile. And when you receive a Wink, check out the Winks List to see who's interested in you!
Photo Gallery
Upload your photos and keep them private for you and your friends, or allow them to be viewed by everyone. Advanced gallery features include multiple album management and automatic thumbnails generation.
Built in photo editing allows you to crop or resize your photos after uploading.
Event Calendar
We offer a built in calendar so you can keep track of your events. See public events planned for members of the community, or track your own dates, such as birthdays or anniversaries.
Well Endowed Dating
Size Minded is a free dating/hookup site for well endowed men and those who seek them. Men must specify the length and girth of their penis and are allowed to upload explicit pictures to their gallery. Users are able to specify the size ranges they are looking for and search by size/location to find their size match!
Big Cocks, Huge Dicks, Massive Members!
Our well endowed men have penis sizes anywhere from a bit bigger than average to well over twelve inches and thicker than your wrist! If you're a well hung man or you're looking for one, you've come to the right place.
Verification Service
All profiles are real. We don't tolerate fakers and remove them from the site. In addition, we offer a free gender and size verification service so you can be sure that what you see is what you get.
About Us
Size Minded is owned by two well endowed straight guys from Melbourne, Australia and operated by a small group of volunteers. The site grew out of our frustrations with existing dating sites which completely avoided the issue of penis size. We are not associated with any other sites. We value your privacy and will never give out personal details or pictures without express permission.