| | | | |
| --- | --- | --- | --- |
| | | | |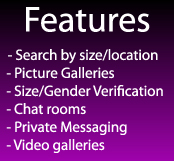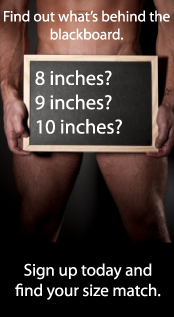 How do I change my email address or password?
You can change your email address on the "edit your profile" page. Here you can change some other information including search preferences, address and other preferences about your daily routines, habits, hobbies etc.

After you've made your changes, click "Save" at the bottom of the page to save.
When creating your profile, we advise that you think about what you are writing in order to attract people. While everyone has individual preferences, and you are certainly free to express those preferences, some fetishes are not allowed on this site because they are either offensive to certain groups, or just plain repulsive to the vast majority of people.
Anyone found with any references to the following written content will be deleted immediately. No warnings.
1. Scat (faeces fetish)
2. Watersports (urine fetish)
3. Paedophilia (we will also give your IP address to the police)
4.Claims of race-based penis size supriority.
Unfortunately, there are some lowly educated people in the well endowed subculture community who believe that on average, black men are the largest, and Asian men the smallest. All studies on race and penis size have shown that there is, on average less than 1/10 of an inch difference between ethnic groups. If you wish to believe otherwise because it plays into your fantasy, so be it, but stating it as fact is offensive to certain ethnic groups. This is not a worship site for the men of a particular race, or a cuckolding site, but a site for well endowed men of all races, and those who love them.
5. Misogyny
Often insecure, underendowed men claim that only "sluts" like large penises. This is blatantly untrue. Any references to wanting to meet "sluts", "whores", or "bitches" is unacceptable. Any truely well endowed man loves size queen women, because they are the women with whom we can have comfortable, enjoyable sex, without worrying if our size will hurt them, because they at ease with men of our size.
6. Contact Information
Any form of contact information such as email addresses, site addresses, or instant messaging usernames.
How do I submit profile pictures?
Click on "Manage profile pictures", and follow the instructions on the page.
IMPORTANT:
Submission of certain types of images will result in the image being rejected by our moderators, and these types are:
1. Images of children, pornographic or not.
2. Images of famous people.
3. Images of professionally photographed models.
We have no way of knowing if the person is you or not. If you are a model, and want to submit images from your portfolio, you must also submit amateur photos at the same time, as proof that the model is you.
4. Any type of advertising, unless it is done as an obvious joke or parody.
5. Any image of a person other than yourself, that people might reasonably mistake for you, unless done as an obvious joke or parody.
7. Any image showing faeces, urine, anal gaping, underage nudity, cuckolding, or anything a normal person would find generally repulsive. Just use your common sense. If you're in doubt, please contact member support.
My Matches works according to the basic profile and "Search Preferences" at the bottom of the "Edit Profile" page.
When someone messages me, where does the message go and how do I respond?

When a member sends you a message, it goes straight into your onsite message Inbox. We then send an email to your personal email address to let you know that it's there.
To read the note, simply login to the site and go to your Inbox. If you decide to write back, simply click "reply", write your own note and send away. Your note will go straight into the member's onsite Inbox, and we'll let them know it's there with an email to their personal email address.
All communications with other members stay onsite so that you never have to give out any personal information until you feel completely ready. Then when you are, you can exchange phone numbers and even meet in person.
How do I edit my profile? How do I hide my profile?
To update your profile, click "Edit Profile" in Members Panel menu. Be sure to save your changes at the bottom of the screen when you're done.
Try to put your best foot forward with at least one photo and snappy, detailed essays about your interests. The photo is key since most people feel more comfortable writing to members they can see. Try to stay positive in your essays and let the real you shine.
To hide your profile, select "No" for the option "Other members can see when I'm online?" on the "Edit Profile" page . Keep in mind, however, that members who are most active on the site keep their profile visible in all places because it ups their chances of connecting with people. And you never know, someone special may be looking for you and never get to find you if your profile is hidden.
How does the verification system work?
Men:
Submit 3 images. 2 images of your penis being measured - 1 for length, 1 for girth.
A third image of your penis, and a strip of paper beside held across it, or laid lengthways along it, with "username@sizeminded.com" written on it.
Women:
Women must write "username@sizeminded.com" on a piece of paper and photograph themselves holding it. The shot must also include their body from their neck to their hips, and be wearing clothing that shows the user has a female form. No nudity or bikini required, just an outfit that is form-hugging.
Once verification is granted, you will be able to communicate with other members via private messaging.
Please visit the verification page for more detailed instructions.
What happens if my pictures are found to be stolen, fake, or my real gender is not the same as my account?
Unlike some other size-related sites, we do not tolerate fake female accounts, fake penis photos or photo thieves here.
Unless an image is obviously fake, and done so for comical, and not deceptive reasons, then the procedure is as follows:
If, after being examined by our Photoshop expert, it is determined that your pictures are fake, your account will be deleted. No warnings.
Stolen pictures and gender faking are a more complex matter of investigation, and that can take some time, but the punishment is the same.
This might sound harsh to some, but it is the only way to ensure we do not become like some other sites which are full of 18 year old boys with porn star penis pictures, and have destroyed the credibility and reliability of sites they plague.
Questions or Reporting Abusive/Threatening Behavior
If you have questions about your account, the site in general, or you have been verbally abused or threatened by any member of this site, do not hesitate to contact us for help.
Well Endowed Dating
Size Minded is a free dating/hookup site for well endowed men and those who seek them. Men must specify the length and girth of their penis and are allowed to upload explicit pictures to their gallery. Users are able to specify the size ranges they are looking for and search by size/location to find their size match!
Big Cocks, Huge Dicks, Massive Members!
Our well endowed men have penis sizes anywhere from a bit bigger than average to well over twelve inches and thicker than your wrist! If you're a well hung man or you're looking for one, you've come to the right place.
Verification Service
All profiles are real. We don't tolerate fakers and remove them from the site. In addition, we offer a free gender and size verification service so you can be sure that what you see is what you get.
About Us
Size Minded is owned by two well endowed straight guys from Melbourne, Australia and operated by a small group of volunteers. The site grew out of our frustrations with existing dating sites which completely avoided the issue of penis size. We are not associated with any other sites. We value your privacy and will never give out personal details or pictures without express permission.