| | | | |
| --- | --- | --- | --- |
| | | | |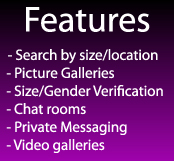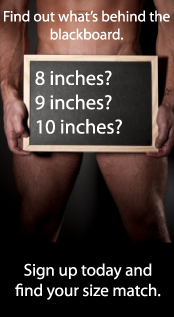 | | |
| --- | --- |
| Age: | 42 |
| Gender: | Man |
| Looking for:: | Woman |
| Location: | San Diego, California, United States |
| Pictures loaded: | 1 picture |
| Albums loaded: | 1 Album ( 7 Pictures ) |
| Videos loaded: | No Videos |
| About myself: | I am a size queen's dream.. Im huge everywhere 13" x 9" is the sites limit.. Come find out if im bigger.. Admirers welcome and encouraged |
| Verified: | No |
| Who Can Message Me: | All Members |
| | |
| --- | --- |
| Relationship Status: | Single |
| Penis Length: | 13.0 |
| Penis Girth: | 9.0 |
| Referred by: | Other |
| | |
| --- | --- |
| Ethnicity: | Caucasian |
| Height: | 6' 6" (198 cm) |
| Eye color: | Hazel |
| Hair color: | Black |
| Body Type: | Bodybuilder |
| Best feature: | Arms |
| | |
| --- | --- |
| Smoking: | No, never |
| Have children: | No |
| Drinking: | Just socially |
| Want children: | No |
| Sense of humor: | Goofy: Cartoons still crack me up, Clever: Nothing's better than a quick-witted comeback, Dry/Sarcastic, Slapstick, Friendly: I'll laugh at anything |
| Employment status: | Self-employed |
| | |
| --- | --- |
| Ethnicity: | Caucasian, African, African American, African Caribbean, Asian, Latin, Middle Eastern, Indian/Sri Lankan/Pakistani, Native American, Australian Aboriginal, English, Irish, Scottish, Welsh, Cornish, Dutch, Croatian, Serbian, Swedish, Russian, German, Austrian, Swiss, Danish, French, Spanish, Mexican, Ukranian, Polish, Greek, Italian |
| Smoker: | Does not matter |
| Drinking habits: | Drinks socially |
| Partner location: | Overseas |
| Body type: | Slim, Average, Athletic, Muscular, Average and a little extra padding, Voluptuous, Very Voluptuous, Voluptuous and a little extra padding, Very voluptuous and a little extra padding |
| Parental status: | No children, Children that live with partner, Children that live elsewhere |
| Eye colour: | Blue, Green, Grey, Brown, Hazel, Black |
| Hair colour: | Brown, Dark Brown, Ash brown, Black, Blue black, Red, Strawberry blonde, Blonde, Platinum blonde, Sandy blonde |
| Hair length: | Very long, Long, Shoulder length, Short, Buzz cut |
The operators of this website make no claims on the accuracy or reliability of these ratings.
Ratings are posted by users, and are not reviewed by the staff.
Profile Rating
How would you rate this profile?
cal5555
: Please post more pics. Your body and cock are amazing. Thank you.
Danny: Thank you.. I put a few more up the gallery. Hope you enjoy