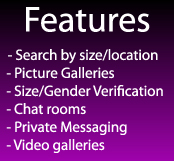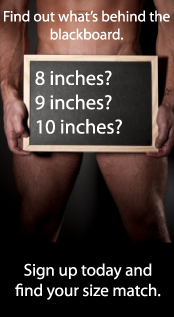 The New Verification System
Nov 19, 2011
Its finally online!

From now on, only verified members will be able to send and receive messages.
This decision was made because it is the only way to be sure that you, the member, is getting what you think you're getting. We are the first well endowed dating site to offer verification at all, and we are also now the first to take this step to make sure your time isn't being wasted by fakes. Some people might not like that they must verify to communicate, but we say they are probably the fakes!
We hope you enjoy this new level of assurance that you are interacting with a real woman, or a man of real size.

Regards
The Size Minded Team
Well Endowed Dating
Size Minded is a free dating/hookup site for well endowed men and those who seek them. Men must specify the length and girth of their penis and are allowed to upload explicit pictures to their gallery. Users are able to specify the size ranges they are looking for and search by size/location to find their size match!
Big Cocks, Huge Dicks, Massive Members!
Our well endowed men have penis sizes anywhere from a bit bigger than average to well over twelve inches and thicker than your wrist! If you're a well hung man or you're looking for one, you've come to the right place.
Verification Service
All profiles are real. We don't tolerate fakers and remove them from the site. In addition, we offer a free gender and size verification service so you can be sure that what you see is what you get.
About Us
Size Minded is owned by two well endowed straight guys from Melbourne, Australia and operated by a small group of volunteers. The site grew out of our frustrations with existing dating sites which completely avoided the issue of penis size. We are not associated with any other sites. We value your privacy and will never give out personal details or pictures without express permission.